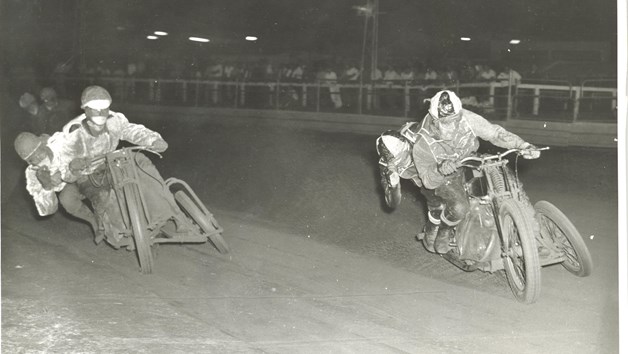 9 JAN 2023 - 20 APR 2023
10:00 AM TO 4:00 PM
Museum
Claremont Museum has collaborated with speedway enthusiasts from near and far to bring memories of the iconic Claremont Speedway event back to Claremont.
Address: 66 Victoria Ave, Claremont WA 6010
Do you remember the smell of fumes and the revving of engines on a Friday night in Claremont?
From 1927 until 2000 the Claremont Showgrounds was home to the longest running dirt track in the history of speedway in Australia.
Claremont Speedway was a ritual for motor enthusiasts and families alike. It was a place to meet friends, eat hotdogs, enjoy the sunset and cheer on your favourite driver.
"It was a Friday night tradition. The whole family standing at fowlhouse corner, smothered in mud, it doesn't get much better!" (Bruce Mckechnie, 2019)
Discover the stories of legendary drivers like Sig Schlam, Chum Taylor and Charlie West, learn about the early days of solos and side cars and reflect on those who lost their lives in pursuit of speed and entertainment.
This special exhibition will be open from Monday 9 January 2023 to Sunday 23 April 2023.
Museum Opening Hours
Monday – Thursday: 10:00am – 4:00pm
Sunday: 10:00am – 2:00pm