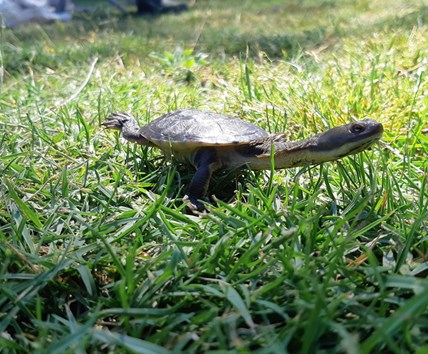 Sustainability

General news
Lake Claremont is home to a threatened species of Snake-Necked Turtle, the Oblong Turtle (Chelodina oblonga).
This wetland dwelling species is particularly vulnerable as they leave their watery homes to look for places to lay their eggs.
The Town of Claremont has teamed up with Friends of Lake Claremont and Murdoch University's Saving Our Snake-Necked Turtle initiative to assist with tracking and nest protection through the Turtle Tracker tool. This will see community members patrolling areas of Lake Claremont at allocated times and being trained in turtle observation skills and techniques to protect laying females and their nests from predators.
Community members can register their interest in becoming an official Turtle Tracker volunteer and help assist with on-the-ground monitoring.
Mayor Jock Barker said we are fortunate to have the Oblong Turtle species in our wetlands and can help contribute to their survival.
"The turtles can often run into trouble when they move to nest further away from Lake Claremont, so providing residents with the correct way in helping identify and move them to the right locations is crucial for their survival," he said.
Murdoch University's Dr Anthony Santoro will be presenting the latest techniques and skills to aid official Turtle Trackers in their endeavours at a Turtle Tracker induction session next week.
The induction session will be held on Monday 21 August from 6-7pm at the Friends of Lake Claremont shed and interested community members need to  register their interest first by visiting https://www.sosnt.net.au/events/town-of-claremont-turtle-tracker-training-session
Community members are also encouraged to download the TurtleSAT app which can be used to record sightings of snake-necked turtles, dead or injured turtles or nests.