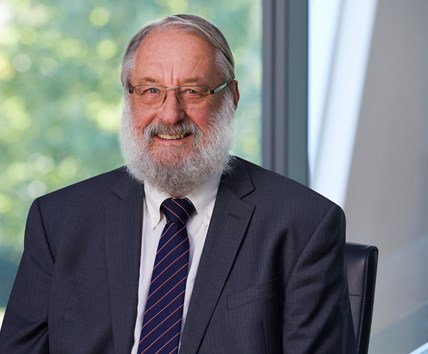 Former Town of Claremont Councillor Bruce Haynes named Honorary Freeman of the Town of Claremont
Retired councillor Dr Bruce Haynes has been awarded Honorary Freeman of the Town of Claremont in recognition of his distinguished service to the community.
Dr Haynes was an elected member of the Town for 21 years over two periods, from 1987-95 and 2009-21.
He was Deputy Mayor from 2013-15 and served the Claremont community in a number of other ways, including Chair of the Lake Claremont Advisory Committee and Chair of the Audit and Risk Management Committee.
His work supporting Lake Claremont was of particular significance and his involvement in the formation of the Friends of Lake Claremont (FOLC) played an important role in the conservation and development of the Lake and its surrounds.
Dr Haynes initially ran for council as a single-issue candidate with a focus on Lake Claremont and its then deteriorating condition. He was involved in the development of a management plan for the wetlands as well as the commissioning of a research project that became an internationally published reference. In 1991 he formed the Lake Claremont Management Committee, which eventually became the Friends of Lake Claremont.
Dr Haynes says the lake is recognised as a model for sound wetland management and conservation.
"Lake Claremont is an exemplar of community, science and town cooperation," he said.
"Public education is the critical next step. Without the public on side [the lake] will degenerate again."
Town of Claremont Mayor Jock Barker praised Dr Haynes' contribution to the Town and the Lake.
"Councillor Haynes was a wonderful servant of the Town of Claremont is a great example of what one can achieve when they are passionate about a particular issue," he said.
"His efforts on behalf of Lake Claremont were monumental and his legacy will live on through the Friends of Lake Claremont and the Lake itself."
Friends of Lake Claremont Chairperson Nick Cook said there is no one more deserving of the honour.
"Prof Haynes has, selflessly, given decades of service to our community. He has been a champion of the Lake Claremont restoration project and was instrumental in fostering community participation in the management of the project. A life member of FOLC, Bruce is affectionately known as the grandfather of Lake Claremont," he said.
"The legacy of Lake Claremont is a precious gift for the entire community."
Dr Haynes is the 11th Freeman of the Town of the Claremont, and the first since 2018.